Heritage Transport: Cutting Edge In the World of Environmental Waste Hauling
March 6, 2018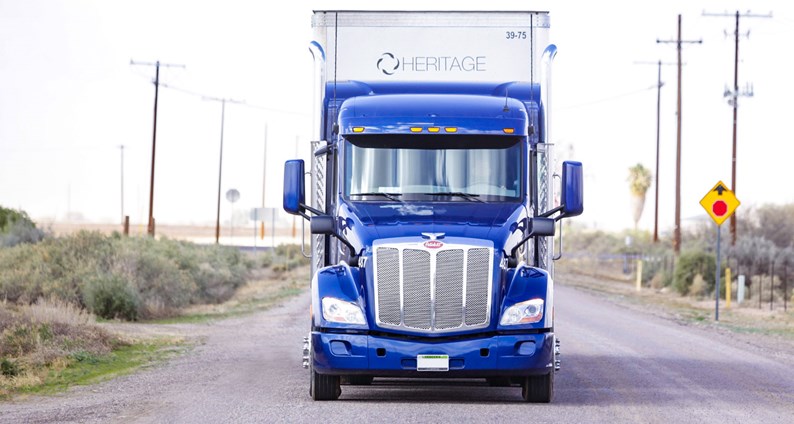 When it comes to specialized operations, you won't find many that can match Heritage Environmental Services and its logistics arm, Heritage Transport. Founded in 1970, the Indianapolis company is in business to recycle, reclaim or reuse waste materials that were generated through manufacturing processes. And, if Heritage can't find a way to give those products a second life, it will make sure that any waste is disposed of properly, and in a way that does not impact human health or the environment.
Welcome to the world of environmental waste disposal.
As a full-service, turnkey provider, Heritage Environmental Services offers a 1,200-acre sub-title C landfill, an incinerator for thermal waste destruction, fuels blending, and inorganic waste treatment plants, which can reclaim, reuse, detoxify, and dispose of materials that have no further reuse possibilities. An example: waste acids from the circuit board manufacturing industry, laden with micro particles of copper, are reclaimed to produce tri-basic copper chloride, which is used as a nutrient for the swine and poultry industries. Separately, the reprocessed (cleaned) acids are then resold to phone, computer and tablet manufacturers.  
Heritage Transport is the transportation pipeline that keeps the waste flowing to the parent company. It has a fleet of just under 400 trucks, with the main terminal located in Indianapolis. "We're about 95 percent Peterbilt when it comes to our fleet, with less than 10 percent driver turnover," said Dean DeSantis, president of Heritage Transport. "Heritage has a long history with Peterbilt, as do I. I bought my family's first Peterbilt truck back in 1985, it was a model 359 and my wife still owns it. I learned very quickly about quality and the high residual value a Peterbilt commands. It is just the perfect truck for Heritage and our drivers – the parts network and service support we get from the Peterbilt dealers, and the PacLease franchises we work with, has been just phenomenal."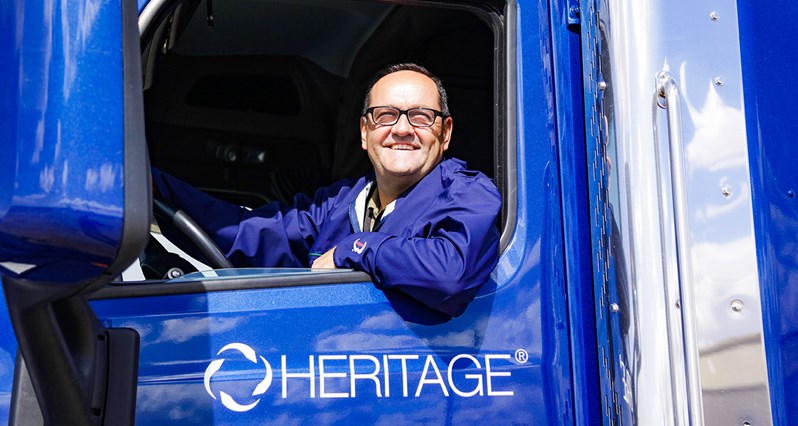 Over the years, Heritage has grown from a local waste disposal company to one that covers much of the United States. "Our footprint has grown and so does the manner in which we handle our logistics," said DeSantis. "We now have 14 locations dotting the country that provides logistical services for Heritage Environmental and its customers and we continue to add."
Since each location is in support of local and regional customers, the number and types of trucks we use can vary. "That's where PacLease comes in," said DeSantis.  "We just opened a new location in Seattle, and have two Peterbilt trucks based there, with service provided by Western Peterbilt Leasing. These trucks will support our ramp-up as we get underway. By leasing with PacLease, we get the Peterbilt equipment we want, spec'd exactly as we want it, and maintained to the standards we've come to expect to ensure uptime. Other leasing suppliers have difficulties managing the specs. We run three different models with PacLease – the Peterbilt 579 with 72-inch sleepers for long-haul, and the 567 and 348 for day cab and regional delivery operations. We have some vacuum trucks that require twin PTOs – one to drive the vacuum pump, the other to run the hydraulic wet line. The Model 348s we lease are usually tandem axle trucks with lift gates, and we run some 2,500-gallon tankers with our medium duty units, all with Allison automated transmissions. We've also been switching to the PACCAR MX engine in our Class 8 Peterbilts. Being lightweight is extremely important to us – we're typically paid by the ton or by the gallon. When we went with the PACCAR MX-13 configuration, we saved 800 pounds over the previous 15-liter diesel we were running. In other applications, efficiencies have commanded more weight reduction, and we achieved that with the PACCAR MX 11."
According to DeSantis, Heritage Transport utilizes PacLease in five, and soon six, of the 14 locations operating trucks. "In Coolidge, Arizona, we currently lease 10 trucks from PacLease, the majority through Rush Truck Leasing. Equipment needs vary in every location, so we make site-by-site decisions on whether to purchase Peterbilts and use internal maintenance resources, or utilize PacLease to support us with a ready-made solution. This combination and flexibility really works well for us."
There is no shortage of customers that work with Heritage Environmental.  And, the logistics-driven Heritage Transport comes up with creative and cost-effective ways to deliver waste material to Heritage's disposal sites in Indiana, Ohio, Missouri, Arkansas and Arizona. "Heritage operates a reverse distribution network," said DeSantis. "We typically head out with an empty trailer to a customer site to pick up liquids and solids in bulk or drums containing waste materials. Then we return to one of our locations for processing or we will repackage the material – often times its transferred into 5,000 to 7,000 gallon tankers or liquid tank rail cars to ship off for final disposition."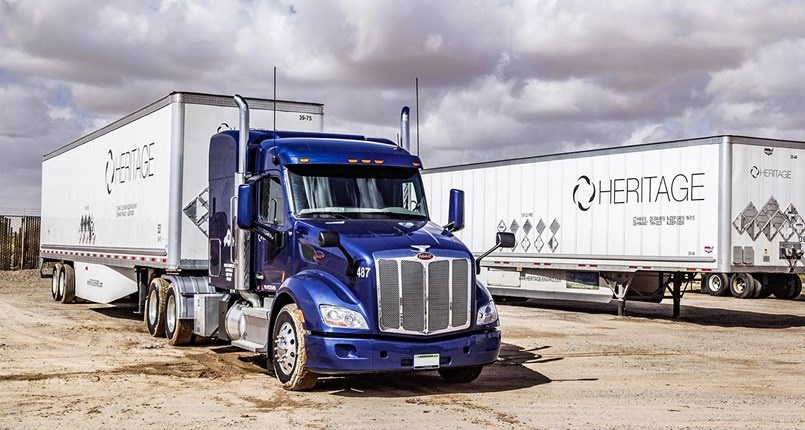 The world of industrial waste is a demanding regulatory environment that often requires prompt pickup. "It's not a matter of pulling in when it's convenient for us to make an industrial waste pickup," said DeSantis. "We are normally scheduled before or after business hours by our customers, sometimes only a narrow window of a shift change is made available. Customers simply can't afford to tie up their loading docks, or personnel to make a waste shipment. It's more important for our clients to keep manufacturing up, and move finished goods off the docks. That's another reason for using Peterbilt equipment and working with PacLease. Dependable equipment is extremely critical – manufacturers have very little room for waste storage, which could be driven from regulatory requirements. "
While Heritage Transport does its part to collect waste, its fleet embodies what it sells. "We walk the talk," said DeSantis. "My staff works hard to be efficient and environmentally friendly. We have reduced our carbon footprint year over year. One strategy is the use of the SmartAir no-idle climate control system in our long haul Peterbilts.  Since it's battery-powered, we have zero emissions and no environmental impact when our drivers shut down to take 10 hours off. Other added components include fairings, air skirts on all van equipment, and fuel-efficient tires that meet SmartWay certification. We're proud of our efforts, which have been recognized by the EPA governed program – we received the Excellence Award for fleet environmental performance in 2015 and 2016."
The fleet is not only ultra-efficient, but ultra-safe. Heritage is a two-time awardee (2014 and 2015) of the CSX Chemical Shipper Safety Award, for making over 2,000 rail car shipments of hazmat material with zero compliance incidents. "And, we feel our drivers are the best in the business," said DeSantis. "They have won seven team Truck Driving Championship trophies from the IMTA (Indiana Motor Truck Association) since 2001.
"We couldn't do what we do without quality trucks and the PACCAR groups we work with," concluded DeSantis. "Whether it's leasing with PacLease, or working with Peterbilt dealerships, they come through to support us. These are great partnerships."