Kenworth Trucks and PacLease Service Make a Difference for P&R Paper Supply Company
March 1, 2019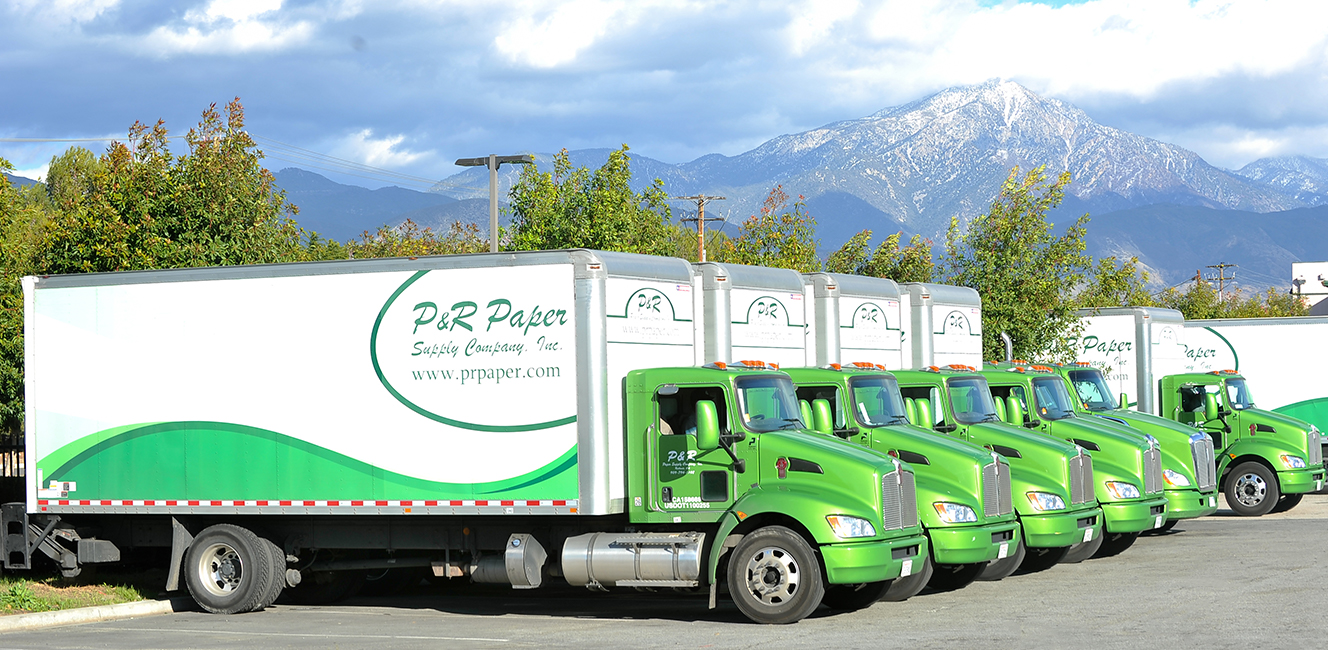 Kenworth Trucks and PacLease Service Make a Difference for P&R Paper Supply Company 
Stefanie Karnes remembers it well.  As the new branch operations manager for P&R Paper Supply Company, she did a ride-along with a driver to get a feel for the equipment the company was leasing. It was her first experience riding in a Kenworth T270. And, it made an impression.
"There was a huge difference compared to other trucks I've ridden in," she said. "The comfort in the ride, and quality of the interior; plus how our driver liked driving the truck. It made a big impression on me and I quickly understood why our company was leasing Kenworths from PacLease."
P&R Paper Supply is a third generation family-run paper supply company that provides more than 8,000 products ranging from paper plates, cups and cutlery, to janitorial and cleaning supplies. Customers are small to large food service companies, schools, and other institutions. With five locations dotting the western states, the company operates a fleet of 72 medium and heavy-duty trucks, the majority leased through PacLease.
As the granddaughter of the founder, Karnes has been with the company since 2005. She became branch operations manager in 2017, with oversight over all branch locations. Her father, Joe Maiberger, and his two brothers – Mark and Luke – own and manage the business, which began operation in 1965.
"Our company has been leasing trucks as long as I can remember," said Karnes. "Leasing streamlines our operation; we don't have to perform maintenance on the trucks or have unexpected costs; and we just turn the trucks in at the end of the lease and get new trucks. It simplifies our operation."
While leasing gives P&R Paper Company financial benefits, it's also providing the company with service benefits as well. "We deal with a lot of customers and the reliability of our equipment is critical to our operation," said Karnes. "We can't have breakdowns and miss deliveries -- PacLease does a great job to make sure our trucks are well maintained. They come out to each of our facilities – usually on weekends or after hours  when our trucks aren't in use – and perform the necessary PM schedules. This is a big convenience factor for us."
P&R Paper began leasing with PacLease in Southern California through Inland PacLease in Fontana in 2009. It's grown its relationship from there. "They worked with us closely on developing the right truck specs for our operation, and as we expanded – opening new locations in Las Vegas and Kent (Washington) for example – they worked with the local PacLease franchises in those areas to ensure we'd receive great service there as well."
P&R utilizes five different Kenworth models – mostly medium-duty (non CDL) T270 and Class 7 T370 straight trucks with 24-foot bodies, plus four T680 tractors, powered by the PACCAR MX-13 engine, and two T800 straight trucks with 28-foot boxes. In addition, the company runs two Kenworth K270 cabovers with 20-foot box for work in the Bay Area. "Streets are very narrow and tight in the San Francisco area, so we needed maneuverability and a truck with a tight turning radius," said Karnes. "When we decided to expand to Union City (in the Bay Area), we talked with Al Vigil (Inland PacLease's account rep) about the challenges of deliveries in that area. He suggested the Kenworth K270 cabover, and it's been a great decision."
While medium-duty trucks service the immediate areas around its five hubs in Redlands, San Diego, Union City, California, and Las Vegas and Kent, its Kenworth T680s provide full and LTL loads to school districts and other large customers in Southern California. The company also has one T680 spec'd with a 76-inch sleeper for runs from Redlands to Union City – about 430 miles away. "Our driver will do a run up, replenish our warehouse, then stay overnight and return home with supplies from our Union City warehouse, or from nearby suppliers," explained Karnes. "What's nice is PacLease suggested we go with Kenworth's Idle Management System. That's been a great system – our driver loves it. He just sets the temperature in the truck, turns off the truck at night, and he stays comfortable with air conditioning in the summer, and heat in the winter. Plus we save fuel in the process since he doesn't need to idle."
Karnes said she gives each branch manager the autonomy to choose the trucks they'd like to operate, but they've gravitated toward the Kenworths.  "When we opened our new location near Seattle, it was a no-brainer – Kenworth's headquarters are nearby, and they have a manufacturing plant there as well," she said. "Once our trucks were delivered, we hired three new drivers for that market. When they saw what they were going to be driving (Kenworth T270s) they told us, 'wow, you have really nice trucks!' Compared to what they were driving, they were blown away."
And Karnes said that's an important component to P&R Paper's success. "We want to provide a quality truck and keep our drivers happy," she said. "Their Kenworths are their home away from home, so they appreciate operating a high-end truck. What's more, we want to have a high-image truck that conveys our image as a premium supplier. The service we provide to our customers has to be top notch, and it is. Our trucks and the service we receive from PacLease help us in delivering the goods we promise. They haven't let us down."